The goal of a scientific poster is to quickly communicate your research to someone walking by your poster.

Unlike a formal presentation, your poster audience is not captive.

You want passerby to
Using PowerPoint to make a scientific poster is convenient - it's a lot like using PowerPoint's slide layouts.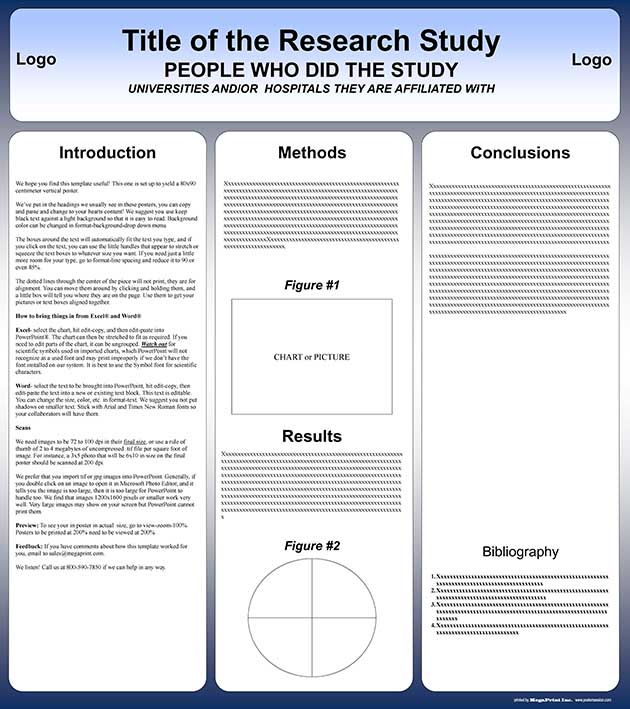 Step 1: Read the requirements! Whether it is for a conference, poster session, or a class, it is likely there are some guidelines about poster size, format, or content. Abide by these guidelines over anything you see here.
Step 2: Make an outline. The most common sections of a scientific poster (generally in this order) are:
*The results and conclusions are the most important sections.
Step 3: Start assembling your poster.
Method 1: Use a PowerPoint template. Although they make for rather "cookie cutter" posters, they'll save you a lot of time. Most posters are made this way.
Method 2: Start from scratch. Powerpoint is the easiest program to use. Set the slide size before you do anything else! The rest is easy, just like working on a regular ppt slide. Scroll below for some useful tips.
Step 4: Proofread! Have someone else proofread your poster. Then proofread yourself again. The more proofreaders you have, the better your poster will be.
Step 5: Save as PDF or PPT and schedule an appointment: Keep in mind that we are heavily booked before major conferences, so plan ahead!
Poster Size
There is no official standard poster size.

Use the size recommended by your class, conference, or poster session guidelines.

If you're unsure, use the most common poster size, 36" by 48".

If your poster has a dimension larger than 56":

PowerPoint's page setup limits dimensions to 56".

Set the dimensions to half their final print size, then print the poster at 200% (A 36" by 72" poster would have a page size set to 18" by 36").

Keep in mind that the library poster printer can only handle posters with at least one dimension at 36".
General guidelines:
Be consistent. Stick to 1 font, preferably non- serif, and only a few colors.

Less is more.

Use less than 800 words. Posters don't require complete paragraphs. Use bulleted lists whenever possible.

2/3 of your poster should be white space.

Don't cause eye-strain:

Use fonts of 18 pt and larger (we recommend 24 pt as the font for the body of your work)

Use easy to read fonts (Arial, Calibri, Comic Sans, Times New Roman) instead of the fun ones (Curlz, any of the Cursive or Script fonts, WingDings, etc)

Use a light background. It'll be easier to read and save on ink.

Avoid background images and patterns. They're distracting and often don't print correctly.

Avoid colors that clash or are too similar.

Use 2-D graphs, not 3-D graphs.

Use high resolution or vectorized graphics. A digital camera file in RAW format or a 150 dpi image will print better than something you copied from the web. Most web images are at 72dpi, which looks fine on a monitor and crummy when printed.

Choose a catchy, descriptive title. Keep it short!

Use sentence case (Your title looks like this) instead of title case (Not Like This) or all caps (THIS IS HARD TO READ).

Your title should be the largest font size on your poster.

Include your name and affiliation at the top. They should be smaller than your title, but larger than your main text.

Each section (Introduction, Methods, etc) should be clearly denoted in a larger font size.

Graphics! Use them whenever possible, both for quantitative and qualitative data (Do not use graphics just for decorative purposes, though!)
Powerpoint-specific guidelines:
Set the custom slide

size

before you do anything else!
Always insert a picture instead of using copy and paste. This will avoid problems when your poster is opened on another platform and when printing. Exception: graphs and diagrams that are already in PowerPoint or Excel are safe to copy and paste.

Save a copy of any graphics in their original file format to the flash drive you're brining to print, just in case there are problems.

Avoid using gradient or pattern fills, as they are less likely to print correctly.

"Ungroup" all graphs, charts, and formulae generated outside of PowerPoint after insertion to prevent printing errors and shifting.

All symbols must be "inserted". After placing your cursor in a textbox, go to the Insert menu, then choose Symbol and select the symbol you want to place in your file. If the symbols are not placed in your file through the Insert menu, they may not print or may print as the wrong symbol.

Guides, Align and Distribute features in Powerpoint are your best friends - use them!

Use the 'Align' and 'Distribute' functions to make sure objects are aligned and distances between them are even. Quick video on using Align/Distribute
Fluorescence images:
Whenever possible, use bright colors (bright red, electric blue, etc.) in your microscope images. Avoid dark colors that are too close to black - they look fine on screen but they will not print well.

Always expect fluorescent images to appear darker in print than on screen.